I've been poring over the Hong Kong government's health statistics, and I thought you would find it interesting that "malignant neoplasms", also known as cancer, were the leading cause of death last year with 14,446 deaths (stats for 2018).
While there are a number of treatments for cancer, including surgery, chemotherapy, radiation, immunotherapy, hormone therapy, etc… of course, nobody wants to face the dreaded cancer diagnosis. Let's discuss the symptoms and prevention of cancer so that you are informed of how to reduce your risk.
Possible Symptoms Of Cancer
The Cleveland Clinic warns of seven symptoms and warning signs of cancer, including:
Change in bowel or bladder habits
A sore that does not heal
Unusual bleeding or discharge
Thickening or lump in the breast or elsewhere
Indigestion or difficulty in swallowing
Obvious change in a wart or mole
Nagging cough or hoarseness
It's hard to be specific, because there are so many different kinds of cancers, but these types of observable changes in your body or health should be discussed with your doctor. Early detection is important, so don't procrastinate if you have a concern.
Preventing Cancer
The Prevent Cancer Foundation suggests seven key steps to prevent cancer.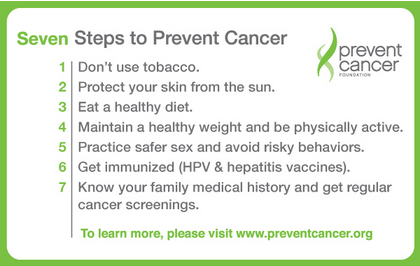 Not using tobacco is hugely important. In Hong Kong, about 10% of the population are daily smokers, and that definitely is a significant source of risk, especially for lung cancer.
Protecting your skin from the sun is also important. While some sun exposure is fine (vitamin D from the sun is very healthy), you don't want to risk sunburn. 15 to 30 minutes of sun exposure daily is probably ideal. I'm not a fan of many sunscreens, as the ingredients in some may be as risky as sun exposure. I'd suggest using a product made for babies or children, and read labels.
There is great power in a healthy diet, especially against cancer. The antioxidants in fruits and vegetables are warriors fighting for your health, but it's your job to reinforce the troops by consuming at least 5 servings of fruits and vegetables daily. Sadly, about 80% of Hong Kong residents do not.
Maintaining a healthy weight is important for many health concerns, including reducing the risk of cancer. If you're struggling with your weight, we can help. Call the clinic today at (+852) 2523 8044 for an appointment.
Certain sexual behaviours and choices can put you at risk for cancer and other health concerns. The use of condoms will reduce your risk, as will other choices.
For many people, immunization can reduce risk. Discuss vaccination with your doctor.
Ensure your doctor is aware of your family medical history so that they can screen for areas of highest risk.
My personal belief is that there are additional nutritional choices and actions you can take to significantly reduce your risk. Of course, some of us have a genetic predisposition, but you're not helpless… Cancer is often the end result of a lot of poor or uninformed lifestyle choices, and the more you can do to optimize your health, the more resistant you will be.